From the Crazy Moon Cerakote shop
Handguns
Set of new Kimber K6S in Rose Gold, Crushed Silver and Gold cylinders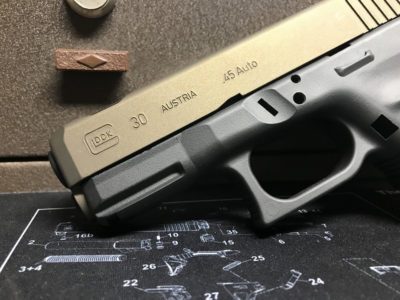 Daily carry Glock 30 in Burnt Bronze and Graphite Black
German-made Sig 220 in renewed in Sig Dark Grey and Sig 228 in Midnight Bronze.
Smith & Wesson Performance Center Shield EZ in Robins Egg Blue, Black Cherry, Frost and Crushed Orchid for daily carry.
Desert Eagle .50 AE in Aztec Teal and Graphite Black.
Springfield 1911 "rusted" with custom family crest on grips, done in Copper, Graphite Black and Satin Aluminum.  
Smith & Wesson AirLite refinished in Tungsten after original finish was accidentally stripped off by abrasive cleaner.
Custom Mag-Na-Port Ruger Blackhawk subdued for hunting in Flat Dark Earth and Sniper Grey.
Springfield XD slide and controls with a Burnt Bronze update.